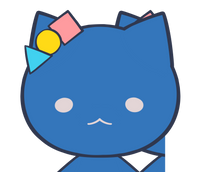 Just got scammed! How come I am reincarnated to Isekai?
STORY
In the 21xx futuristic world, a bored individual finds a message on their outdated Twitter account offering early access to an NFT anime game named "basementLand.io". Skeptical but curious, they enter the functional website, select a character, and sign in, only to have their wallet drained, so their body gets transported to the post-apocalyptic cybernetic city. They meet BlueMeow, a talking blue cat companion who introduces them to this new reality called "basementLand"
This event is called the "Random Match Commission." We will search for 12 Requesters to participate in pairing with 12 artists through a blind bid commission rate, starting from 0.1E. The top 12 bidders with the highest proposed rates will be selected to participate, and each of the 12 artists will draw your character in the theme of "Isekai" (post-apocalyptic cybernetic city). You will have a unique costume and profession.
AVAILABLE CLASSES:
HEROES
1. Warrior/Knight/Paladin
VILLAINS
Bidding Details
:
Make a request through Recomet to Bluemeow Friends account and enter the amount you wish to 'bid'.

The bidding system in this event is similar to putting in an offer, where you 'propose' a commission price that you think should be higher than your opponent's offer. You will not be able to see others' bids. The minimum amount is 0.1E.

At present, Recomet system only allows a requester to send 1 request to each artist at a time (no multiple requests to one artist are allowed). Therefore, if you wish to bid bigger, you need to cancel the request and then resend the request with a bigger amount.
Attach the character you wish to be drawn. It could be NFT or file. Use the

delegate.cash

app if necessary.
Send the request.
12 of the highest bids will be selected as winners.

In case of a tie in rankings, a random selection will be made.

The winners will be randomly paired to the participating artists.
The winners' request will be approved. Others will be canceled. The winners will then have to complete the payment within the payment deadline.
Once payments are completed, the artists will start working on the arts.
The finished art will be revealed on OnCyber Gallery before being delivered to respective requesters.
There might be additional gifts and benefits for all participants!
EVENT TIMELINE
Bluemeow Friends

will start accepting requests on June 3rd. The account will stay open until June 13th.
on June 15th, the Winners will be announced
The art will be revealed a month later on the 20th of July.
The arts will be delivered through Recomet system soon after.